Major flaw in Theory of Relativity
Posted on: April 4, 2016 - 10:54am
Major flaw in Theory of Relativity
Relativity of simultaneity shows flaw when a third simultaneous even is introduced in the "Ladder Paradox" thought experiment.
Link to the Wikipedia page, treating the ladder paradox - click HERE to read.
Please study the content from the above link, and refer to it when examining the problem presented by me.
For better understanding I'll use the same graphics, modified for the purpose of the problem.
To question the length contraction and the relativity of simultaneity I introduce a third simultaneous event in the ladder paradox problem.
How? Simply, by attaching a rod to each door, which are welded perpendicularly on the inside of the doors, in a way that the rod tips touch when both the doors are closed. (See the red attached arms on the graphics)
Think of this touching event as verification of the simultaneity - touching verifies simultaneity, no touching - no simultaneity. Obviously this event will be absent in the ladder reference frame, since the doors in that frame are not closing simultaneously. Missing event in one of the reference frames is against the law of physics, which automatically puts Einstein's Theory of Relativity in the dustbin. (Don't laugh. Think.)
Graphics:
1. left hand side - garage reference frame with simultaneously closing doors. Touching event is present on the third graphic from the top.
2. right hand side - ladder reference frame with non simultaneously closing doors. Touching event is missing.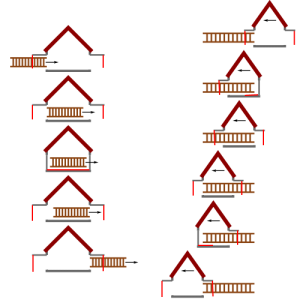 Why do I present this problem in your forums?
Just to show, how authorities create unbreakable walls and form mind obedience.
You are terrified by the idea of Einstein being wrong in the core of his theory, eh?
No, you are not. You cannot even allow such a thought in your obedient minds.
You think that I'm crazy, and that solves all your problems with all your wrong perceptions of the world.