Atheists should drop anti-religion campaigns: Astronomer Royal
Posted on: April 25, 2011 - 10:42pm
Atheists should drop anti-religion campaigns: Astronomer Royal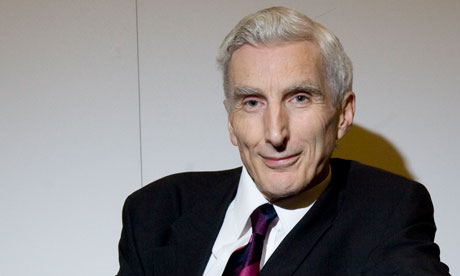 Martin Rees said many young people may abandon science if teachers insist God and Darwinism are irreconcilable. Photograph: Martin Argles for the Guardian
Martin Rees, the astronomer royal, has called on anti-religioncampaigners to abandon their tactics and strive for "peaceful coexistence" with mainstream religious groups.
Rees, one of the country's most senior scientists, criticised those who pit science against religion and urged atheists to embrace the moderate strands of faith in opposing fundamentalism.
The Cambridge cosmologist declared what he described as his "pallid and boring" view in an article in the New Statesman that amounts to a defence of his decision to accept a £1m prize given annually by the Templeton Foundation for work of a spiritual nature.
The announcement that Rees had accepted drew criticism from some scientists who claim the prize undermines the integrity of science.
Rees said some modern proponents of Darwinism took a "glaringly different stance to the Victorian naturalist who once commented that religion was too profound for the human intellect to comprehend.
"We should all oppose – as Darwin did – views manifestly in conflict with the evidence, such as creationism … But we shouldn't set up this debate as 'religion v science'; instead we should strive for peaceful coexistence with at least the less dogmatic strands of mainstream religions, which number many excellent scientists among their adherents."
Rees, who is master of Trinity College, Cambridge, was among the first generation of scientists to contemplate the big bang. In subsequent work he has asked how large is physical reality.
In the article, Rees, who does not believe in God, described himself as an "accommodationist" and "tribal Christian" who was happy to attend church services.
"Campaigning against religion can be socially counter-productive. If teachers take the uncompromising line that God and Darwinism are irreconcilable, many young people raised in a faith-based culture will stick with their religion and be lost to science. Moreover, we need all the allies we can muster against fundamentalism – a palpable, perhaps growing concern," he wrote.
"Experiments are the only means of knowledge at our disposal. The rest is poetry, imagination." Max Planck