An attempt to answer JCE's big bang question.
Posted on: May 9, 2007 - 12:31pm
An attempt to answer JCE's big bang question.
jce wrote:
BGH wrote:

deludedgod wrote:

PS I hate the term Big Bang. It wasn't big, probably the smallest fundamental existence of reality compressed into a space far smaller than human imagination can comprehend, and it definitely wasnt a bang. A bang requires sound, sound requires atoms, and the primordial universe had none of those things.

I am not really keen on the terminology either, it was actually used in a derogatory manner to ridicule the theory. Basically, I like when it is descibed as a rapid expansion of space and time in all directions. No "bang" was involved.

I have a favor to ask: Would you start a thread explaining "rapid expansion of space"? This has probably already been discussed and I am sorry that I do not understand it, but I want to. I had always heard "big bang" (not necessarily in a derogative way) and have a mental image of a major explosion and there is the solar system when the smoke clears. I know this is incorrect, but I also don't know much more about it. I realize this is asking a lot of your time and possibly deludedgod's, but I, for one, would really appreciate it.
I did a quick search and gather some basic ideas. I wanted to give you a visualization which may help you wrap your mind around it. This image is from the WMAP site: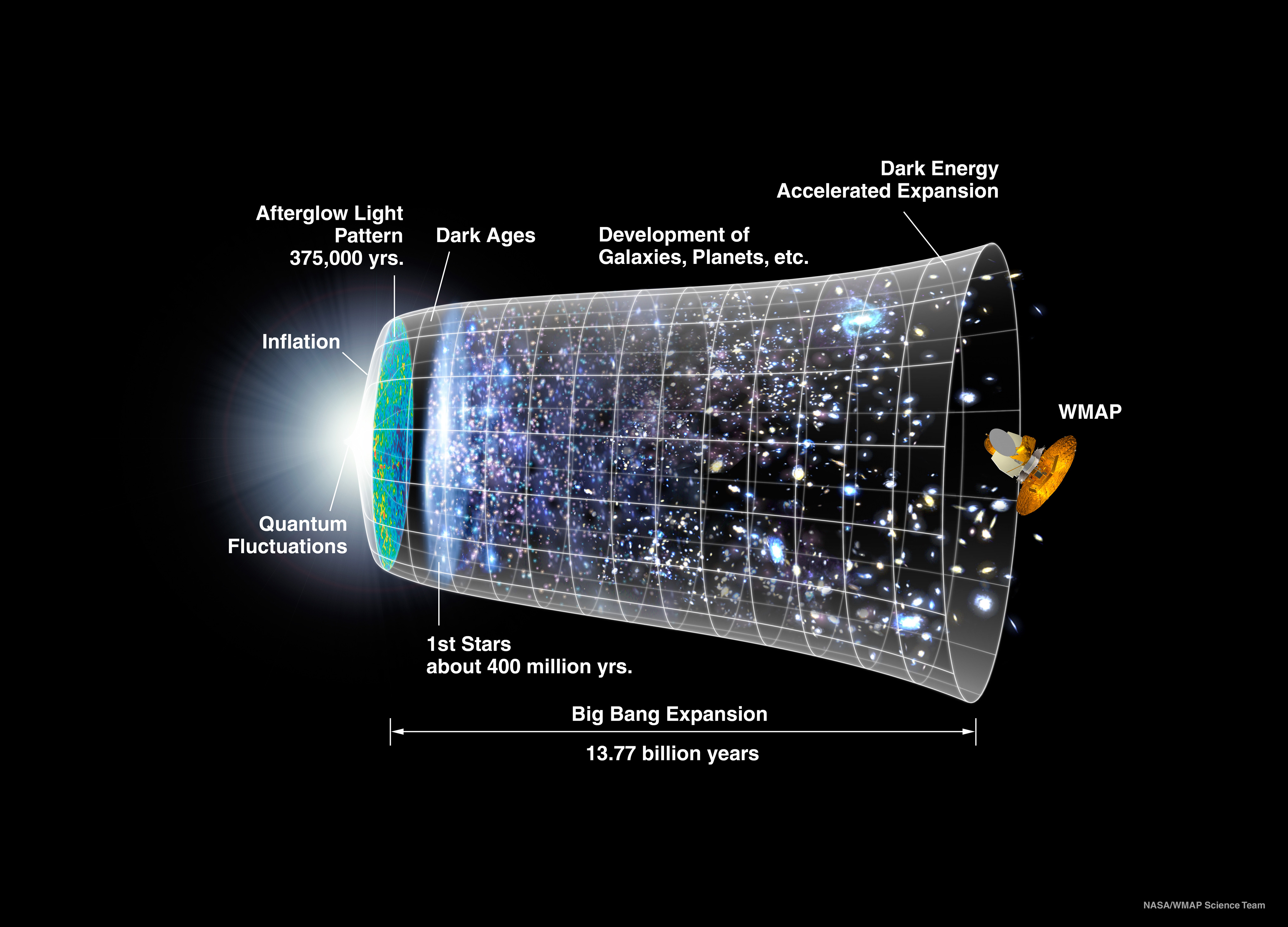 Time Line of the Universe
The expansion of the universe over most of its history has been relatively gradual. The notion that a rapid period "inflation" preceded the Big Bang expansion was first put forth 25 years ago. The new WMAP observations favor specific inflation scenarios over other long held ideas.
From NASA:
Big Bang Cosmology

The Big Bang Model is a broadly accepted theory for the origin and evolution of our universe. It postulates that 12 to 14 billion years ago, the portion of the universe we can see today was only a few millimeters across. It has since expanded from this hot dense state into the vast and much cooler cosmos we currently inhabit. We can see remnants of this hot dense matter as the now very cold cosmic microwave background radiation which still pervades the universe and is visible to microwave detectors as a uniform glow across the entire sky.
And an actually pretty accurate easy to understand wiki article:
http://en.wikipedia.org/wiki/Big_Bang