Outrage! Onion Insults Islam By Not Mentioning It!
Posted on: September 21, 2012 - 10:19pm
Outrage! Onion Insults Islam By Not Mentioning It!
"No One Murdered Because Of This Image."
http://www.theonion.com/articles/no-one-murdered-because-of-this-image,29553/
That was a recent headline from The Onion, the often hilarious parody newspaper.
The image in question is really not appropriate to describe with any specificity in a family newspaper. It's quite simply disgusting. And, suffice it to say, it leaves nothing to the imagination.
Four of "the most cherished figures from multiple religious faiths were depicted engaging in a lascivious sex act of considerable depravity," according to The Onion, and yet "no one was murdered, beaten, or had their lives threatened, sources reported Thursday."
"Though some members of the Jewish, Christian, Hindu, and Buddhist faiths were reportedly offended by the image, sources confirmed that upon seeing it, they simply shook their heads, rolled their eyes, and continued on with their day."
There was one conspicuous no-show for the celestial orgy: the Muslim Prophet Muhammad.
Jonah Goldberg, Tribune Media Services
No - it's not the Onion cartoon, that's linked above, but here's how Jesus and Mo saw it: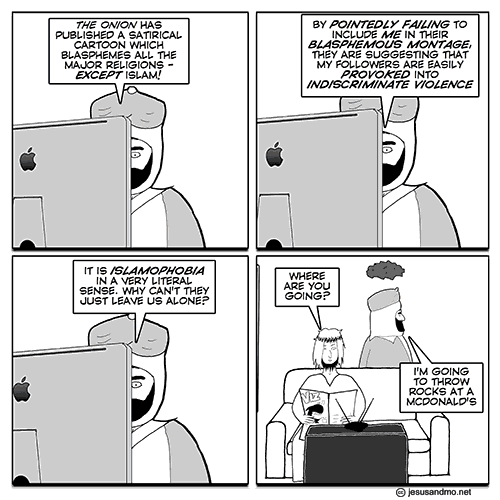 Jesus and Mo reproduced under Creative Commons
"Experiments are the only means of knowledge at our disposal. The rest is poetry, imagination." Max Planck