Can't wear anything bright - Is that bright?
Posted on: September 18, 2011 - 7:54am
Can't wear anything bright - Is that bright?
I ride motorcycles and embrace hi-viz jackets. It is the way to go for my safety and for car drivers who are texting, yelling at their kids, talking on the cell phone...you know anything but driving. "If you hit something backup and try again" appears to be their motto.
One crazy person came completely in my lane while I was riding a straight-pipe Road King, the kind that make your ears bleed. So adding hi-viz gives me some kind of chance. (oh, I don't own any bikes with loud pipes anymore, particularly because of the aforementioned story).
So who are the crazy ones in this story below?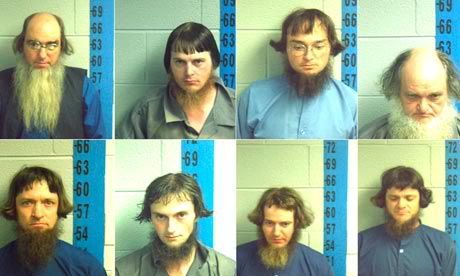 guardian wrote:
Eight Amish men have been jailed by a judge in Kentucky for non-payment of fines after refusing to fix reflective orange warning triangles to the back of their horse-drawn buggies.

The unusual suspects, whose mugshots have been published online, were arrested for misdemeanours. A ninth man was arrested but not jailed.

The group hail from the stricter Old Order Swartzentruber sect and objected to the bright triangles on modesty grounds, saying they were barred from wearing or displaying anything bright or colourful.

Members of the sect can affix reflective tape to their vehicles but refuse the orange triangle – a legal requirement on slow-moving vehicles.

After their arrest, the group subsequently refused to pay any fines as that would, in turn, mean recognising the law they refuse to obey.

Judge Deborah Hawkins of Graves County district sentenced eight of the men to between three and 10 days in jail for their refusal to pay up.

Local television station WPSD reported that a "concerned citizen" had paid the fine for the ninth man so that he could be with his sick child.

The case has been running since 2008 and the men have been represented by a civil rights group, but it was reported that their latest appeal was refused in June. William Sharp, their lawyer from the American Civil Liberties Union of Kentucky, invoked their constitutional right to religious liberty.

"This case is about the right of Kentuckians to freely exercise their religious beliefs and, by necessity, the limits of government's ability to impose a substantial burden on that right."

Because of the belief no bright clothing should be worn, the men were given dark-coloured jumpsuits to wear rather than standard issue orange overalls.
http://www.guardian.co.uk/world/2011/sep/17/amish-jailed-kentucky-warning-triangle-fine
Religion Kills !!!
Numbers 31:17-18 - Now kill all the boys. And kill every woman who has slept with a man, but save for yourselves every girl who has never slept with a man.