Confused about the Slutwalk
Posted on: June 7, 2011 - 12:11am
Confused about the Slutwalk
The whole Slutwalk was the consequence of a Toronto police officer who callously told young women that if you dress provocatively, then you're asking to be sexually assaulted. The guy is an asshole and no matter what a woman wears, no one has the right to violate her. We all deserve to be treated as human beings regardless of attire. And so we have the Slutwalk with hundreds of women marching in protest in scantilly clad attire: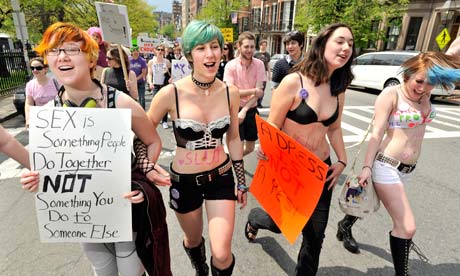 But here's the part where I get confused. If a woman wears the sexy clothes and marches for this noble cause, won't there be male onlookers who will ogle and objectify them? Won't the said women end up as ornaments of male desire, an image that feminists want to erase? And what about the feminist argument that women dress this way because their sexual narratives have been negatively dominated by a patriarchical society?
Among all of the social justice movements (ie. civil rights, LGBT rights, etc..), feminism has got to be the most contradictory. What is anti-feminist is feminist and vice versa. And I ask the most important question. Will the Slutwalk achieve the positive social transformative change that these women so desire? Or will it end up as images for male (and also female) masturbation?
Instead of the Slutwalk, why didn't these women instead collectively challenge the courts to stop blaming the victim based on her attire? Why not pursue the matter through legal means via groups in Ontario such as the National Action Committee on the Status of Women?