Hello again
Posted on: December 19, 2009 - 3:10am
Hello again
I've been a member for awhile now but I hadn't visited the forums for quite sometime. Boy, I really missed it! Anywho, hi again, good to be back!
I had a baby girl two months ago. My grandma sent me an azabache charm to ward off Mal de ojo (evil eye). This is believed to protect the baby from excessive admiration or envious looks by others.
Just in case you don't know what it looks like: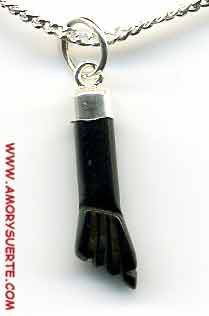 That's the bracelet, but you can get the charm and pin it to the baby's clothes. My grandmother always asks me if Cat (baby's nick name) is wearing the charm. I always tell her yes. If I say no she'll ask why and then I have to explain and she doesn't get it. I've told her three times already that I'm a non-believer but she seems to forget. It's rather funny, when she sent it to me she told me to take it to a church to get it blessed. She reasoned that she couldn't get it blessed in Puerto Rico (where she lives) because it would pass over water and then the blessing would be void. WTF? lol And she told me to pin the charm inside the clothes, this way whoever wishes the baby harm won't know that the baby is wearing the charm. If they don't know and wish the baby harm Chuck Norris will roundhouse kick the person. Jesus has friends like that.
Another thing about babies and PR is that I remember my grandma telling me that after complementing a baby I must always say "good bless him/her". This too was to ward off the evil eye. I guess saying my baby is beautiful is a bad thing :/
Thought I would share this little story. It's funny because it's true! BTW, my mother kept the charm. She pinned it to a photo album I bought for her.
Cheers!