The official RRS defeats Way of the Master thread
Posted on: May 8, 2007 - 10:15pm
The official RRS defeats Way of the Master thread
This is it. This is the official thread that Kelly and Sapient will try to interact with as many visitors as they can. If you are new here, welcome aboard. If viewing this from the homepage you can click the title of the thread, create an account, and post your comments. Kelly and Sapient will not have time to address all the email and would like to keep all of their exchanges public for the benefit of the readers who are curious. Soon we will have a downloadable document available right from this post that will expose as many arguments as we can expose from the ABC Nightline Face Off with Ray Comfort and Kirk Cameron. Here are the highlights of the face off from our eyes...
Did we make mistakes in the full debate? Yes. We stumbled on a few words, made an inaccurate point or two, and made a weak point at a moment or two. Ironically our worst points still seemed to be too much for them. So while we welcome criticism, especially constructive, please keep in mind that we feel we have a good handle on what we did wrong. We'll grow, learn, and get better. What we're really hoping for in this thread is for the actual content and discussion about gods existence to be brought into question. Challenge us to continue, and we will continue to respond to your claims. If you are a theist, please feel free to post your scientific evidence for God, leaving out the miserable arguments that Ray Comfort has already been beaten on of course. If you are having trouble finding the video on ABCs website, you can find most/all of the videos here. DIGG it.
A thread on our message board that has links to the entire unedited debate.
Other threads of interest:
Nightline Editing Bias - The Supporting Data
Gregfl starts a thread about Bashirs big blunder and the Nightline portrayal.
Some of the Christian mail coming in [YOU RESPOND] about the debate.
Pertaining to Jesus Mythicism A thorough examination of the evidence for Jesus by Rook Hawkins
A Silence That Screams - (No contemporary historical accounts for "jesus) by Todangst
Video from Rook outlining the basics of Jesus Mythicism
UPDATE Sapient spoke with ABC and voiced concerns leveled by many atheists in the community that the editing job for the Nightline piece gave Ray and Kirk a free pass. The most commonly voiced criticism of ABC was that it managed to show the debate as somewhat even and that there was no clear victor. This discussion was accepted only under the understanding that Ray and Kirk would prove God exists without invoking faith or the Bible. Anyone that understood the format saw that Ray and Kirk failed at their premise as soon as the proof of God became the Ten Commandments. ABC was made aware that commentary like "It was difficult to know if either side could claim victory" gave the impression that they were pandering to their largely Christian audience. While Sapient understood that this may be a wise business move, it was noted that it wasn't an accurate representation of the discussion. The Rational Response Squad brought it's "B" game and still destroyed every claim Kirk and Ray threw at them. In more positive news, we were made aware that the ABC unedited video of the debate was viewed over 160,000 times in the first 12 hours. Hopefully a few people have found the strength to overcome their god delusion.
AND THE PWNAGE CONTINUES:
THE FULL DEBATE!
EXPOSE OF POST DEBATE CHATTER AND BEHIND THE SCENES INFORMATION
Atheist Books, purchases on Amazon support the Rational Response Squad server.
Posted on: May 12, 2007 - 2:45pm
#506
That was a really good post
That was a really good post too..
Posted on: May 12, 2007 - 2:48pm
#507
scottmax wrote:jabwocky
Its not working, oh well...
Posted on: May 12, 2007 - 3:25pm
#508
jabwocky wrote:
jabwocky wrote:
The fact that it is possible that there is a false record of things planted on earth is not to "deceive people intentionally" it is possible there to deceive those that wish to be deceived?
Planted = intention. You are dodging and it would be good for you to admit this to yourself. Why should God have any interest in helping us deceive ourselves into not believing in Him so we will go to Hell which is the last place He wants us to go? If He actually provides evidence to assist us in not believing, then that must be His intention if He is all-knowing.
jabwocky wrote:
Or maybe it is not God, perhaps Satan?
Yeah, "the devil did it" is the ultimate backup when the evidence denies the reality you wish to perceive. If you believe this then you can believe that anything is possible. Maybe we live in the Matrix.
It is far more sensible to simply believe that our senses don't lie and reason is reasonable.
jabwocky wrote:
The funniest part to me of this whole discussion is that neither side is actually provable according to scientific PROOF/FACT,
We are not making the claim. You are. You claim God is a fact and you admit that it is not scientifically provable.
Do you feel a need to defend scientifically your assertion that there is not an incorporate invisible pink elephant in your bedroom?
jabwocky wrote:
I guess my biggest wonder is how can somebody look at the world around them, and think this is all just chance?
It is not chance. Natural selection combined with random mutation has led to this world of green grass, ticks, beautiful trees, lice, powerful tigers and parasitoid wasps. It has probably even led to the beautiful rivers you see since biology radically changed even the composition of our atmosphere.
jabwocky wrote:
there are as many leaps of faith in science as there are in believing the existence of God, maybe even more
Nope. Science can have wild hypotheses but these serve only as a launching off point until they are backed by evidence. Science is designed to be self-correcting. Religion is not.
jabwocky wrote:
I once heard somebody say they didn't have enough faith to believe in evolution, hows that for hilarious?
Very, very funny, in a sad uneducted sort of way.
jabwocky wrote:
You all support scientific claims as your basis for evolution, but doesn't the fact that SO many things had to be perfectly in place for our planet to even exist as it does not throw even a tiny wrench into the works?
With perhaps 1,000,000,000,000,000,000,000,000 (10e24) stars in the known universe? Not really. Watch the Privileged Planet. It lays out the incredible numbers trying to make exactly the point you are making. Some of their numbers are based on false premises but others, if you divide them into the estimated number of stars, actually argue against their theory. Big numbers make many things possible.
jabwocky wrote:
Scottmax, I'm not here to dissuade you anyway, you have made your choice, as others here have, I am here hopefully to maybe persuade just one person, to make them look deeper into the discussion, to truly seek the answer, then they can make their own decisions, thats all that anybody can do.
Then we are here for the same purpose. It might help if you research evolution before you try to disprove it, though. Many here have done the hard work and many have left religion as a result. You can't teach truth without first acquiring knowledge.
Oh, and I mean real evolution books.  Read Behe if you like but be sure to read all of the refutations as well.  Read all sides.
Posted on: May 12, 2007 - 3:26pm
#509
daddymatt33ih
daddymatt33ih wrote:
Jcgadfly that was a weak response evidently you know nothing about the Bible I suggest you get one and read it
:YAWN: 
Posted on: May 12, 2007 - 3:28pm
#510
formerfaithhead
formerfaithhead wrote:
It's good that you've come to realize this. Now question why religions are formed- fear, control of people, the need to explain why the storm destroyed your house but not the neighbor's house etc.... The concept of "faith" was propogated through the meme-scape in order to make blind conjecture seem noble. It's a clause in the rule book of reason we normally play by which eradicates intellectual honesty, and makes the ignorant feel superior.
Great post FormerFaithHead.
Posted on: May 12, 2007 - 3:50pm
#511
Veils of Maya
Veils of Maya wrote:


Actually, I'd say that, in the beginning, "caring" had nothing to do with our survival. It really was survival of the fittest that helped us evolve into complex life forms and eventually the dominate species on the planet. While animals do seem to show altruism, I think it's more instinctual than intentional. However, as we evolved to become conscious, the concept of caring began to play an important part in our respect for mankind. In other words, consciousness works in parallel with our genetic instructions to help direct future of human development.

One of my favorite authors is Mihaly Csikszentmihalyi. In his book, The Evolving self, Csikszentmihalyi extends his concept of Flow into a framework for creating a more complex and harmonious existence though consciously guiding evolution. My user name is based on one of the chapters in this book which describes the primary three "veils of illusion" that tint our view of reality: genetics, culture (which religion would fall under) and self/ego.

Here's a great interview in Csikszentmihalyi which gives a brief outline his theory.

http://www.wie.org/j21/csiksz.asp?page=2

I'd highly recommend the book to anyone interested in social and moral development in the absence of religion.

http://tinyurl.com/2zjfmg
That sounds very interesting. I am also a fan of Csikzentmihalyi's concept of flow and its implications regarding education and the learning experience based on the ability to acheive "flow" in that setting. Nice to see that other people are aware of his work.
Kelly 
Posted on: May 12, 2007 - 3:53pm
#512
jabwocky wrote:
jabwocky wrote:
I see people espouting a lot of "theories" remember they are just that, theories...

One of these theories, is evolution, have any of you read Darwin's Black Box? Basically for those of you that haven't it blows evolution out of the water SCIENTIFICALLY, is that not what you wanted ? Scientific response to your questions, even Darwin said that his 'theory' was based upon observation, and that it WAS POSSIBLE in the future that he could be proven wrong, Michael Behe in his book explains that using a biochemical challenge of Darwins theory it fails.

Darwin in his time did not have the availability to access the labs/microscopes, etc that we have today, in short when broken down to the biochemical make up, we could not have EVER came from the same place as a lot of animals, or they from the same place as us. That being said there had to hundreds of starting points that just happened to evolve to a point that had similar parts... that would be a far stretch...

There are singular points, and Ray and Kirk missed the chance, possibly from lack of knowledge on those points, but there are probably others that might have argued certain points to a better conclusion. The main one, the eye, the eye is dependant the optic nereve, as well as other parts to work perfectly (so that one can see) if part a doesn't work, part b doesn't work, so if the eye is not working correctly cornea>retina>optic nerve. one does not see, this is not an evolable part, it works as it is, if anything isn't working, no sight, no sight - dead meat.. just something to think about...

Another interesting point (I will distinguish here between Christians (those that believe there is a God -even satan/demons believe in God/Jesus, and Born-again Christians, Those that believe the Bible and have a relationship with Christ) 100% of the people that have sought the truth of wether or not God/Jesus/Holy Spirit exist have become Born-Again Christians... a notable one being a former atheist writer Lee Strobel. I have NEVER heard of a Born-Again Christian becoming an atheist (although I will admit it is possible).

Enough for now..just a few things for thought, you mention you are thinkers.. I am too, butI also find it is extremely to overthink also, may the answer is the easy one..

My_2_Cents...

P.S. There are no winners in this debate... depending on which one is wrong there can be big losers...
I haven't finished reading this thread, so forgive me if this post is redundant, but Behe has been entirely discredited by the scientific community (not to mention the Dover case smackdown). His entire theory is based on probablities and is just another pseudo-scientific attempt to make abiogenesis appear impossible to the average person who is intimidated by big numbers. Same argument from ignorance with a different slant and lots of big numbers.
Kelly
BTW - Nice little addition of Pascal's Wager there at the end.
Posted on: May 12, 2007 - 3:58pm
#513
Veils of Maya
Veils of Maya wrote:
gary7infiltrator wrote:



Step 4: The flagellum, seated in the "motor" (built up of useless mutations that did not hamper the existence of the ancestral bacteria that had them) continues to be shaped by natural selection until the perfectly functional flagellum/motor mechanism we observe today is formed.




Actually, during the Dover PA trial, Ken Miller was able to show that one of the intermediate steps of the bacterial flagellum was the type 3 secretary system.

Here's a clip from his American University presentation that illustrate this point in detail.

http://www.youtube.com/watch?v=RQQ7ubVIqo4

Well, I never claimed to be an expert on flagella. 
  But even my limited knowledge makes more sense and shows more of a knowledge of evolution than Behe shows in his various atrocities he calls "books."  And that is just sad. 
Posted on: May 12, 2007 - 4:03pm
#514
jabwocky wrote: Its not
jabwocky wrote:
Its not working, oh well...
What, are you referring to the fact that nobody jumped on your post right away?  A few reasons for that:  1)  We all have lives outside the internet.  I know this is hard to believe, because you, apparently, do not.  2)  We've all already refuted the arguements you presented.  A zillion times before.  Look anywhere in these forums.  Nobody cares about your dumb non-points anymore, becaue they're so banal that they don't deserve comment.
Seriously - "if evolution were true, we'd have fossils of every species in every stage of its development..."  Do you have the mind of a child?  Do you know how rare is the process by which fossils are made?  Frankly, it's nigh on miraculous that we have any fossils at all, much less such a huge record.
Once again, YOUR personal lack of education and inability to imagine how evolution could be true doesn't mean that it is untrue.  Just as YOUR personal "experiences" that seem to support the existence of God do not prove anything other than the existence of your own brain.  See FFF's many fine posts in this thread for further enlightenment on this subject.
You are boring. 
Posted on: May 12, 2007 - 4:06pm
#515
jabwocky wrote:
jabwocky wrote:
scottmax, gravity is a bad example of a 'theory' it is a fact, jump, u fall, not a theory...
Just like the "fact" that you fall is what proves the "theory of gravity"--and the fact that all of the evidence that demonstrates evolution verify the theory. That's how scientific theories work.
Quote:
Your link to Lehigh, all it says is the university's position is one of evolution, not ID, proves nothing, most scientists will not back ID, they've been taught evolution their whole lives, its all they know, one of the reasons most people will fight evolution tooth and nail is the major choice left is ID, and god forbid that is correct because it makes them wrong...
Of course, we all cling to evolution because we are afraid of the existence of your sky-daddy being proven. Ummm...yeah.
Quote:
But I still had other valid points I would like answers to...

Also 2 more points..

IF evolution was true, we would see MILLIONS of animals in flux.. ie we would see animals that cows came from, and animals that elephants came from, etc... because amoeba would be constantly evolving, therefore creating new and different animals in all stages of evolution, all the time, correct ?? not all animals on the planet would be at their full evolved state... i.e. if we came from apes, why are there still apes? where are all the forms in between??
Brian and I would like to know--if you came from your parents, why do you still have parents? Here's a little (very sloppy) diagram I made for another messageboard ignoramus: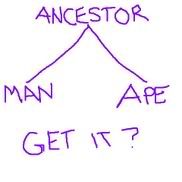 Quote:
 

Point 2

If God is God, and capable of creating all we see..not only on earth, but in the universe, all that is, do you not think that He is capable of creating enough things, and planting them on earth to fool you? Just a thought...

My_2_Cents...
No, it's clearly been planted by Satan. Duh.
No, in all seriousness, if your god who supposedly wants all people to be saved, would purposely try to fool everybody and thus send them to hell, then he is evil indeed.
Nice try,
Kelly
Posted on: May 12, 2007 - 4:06pm
#516
scottmax wrote: jabwocky
scottmax wrote:
jabwocky wrote:

Or maybe it is not God, perhaps Satan?

Yeah, "the devil did it" is the ultimate backup when the evidence denies the reality you wish to perceive. If you believe this then you can believe that anything is possible. Maybe we live in the Matrix.
Even better point:  If God is all-powerful, and if he doesn't want us to be lied to and tempted away from him, then why does he ALLOW Satan to put fossils in the ground to deceive us?  Isn't the very idea that God allows Satan to do deceitful things an obvious stamp of approval from God on Satan's evil?  Unless you're trying to say that Satan can do anything he wants and God actually has no power to stop him; in that case, why worship a deity who is not all-powerful?
jabwocky, the "Satan did it" excuse is even lamer than "God is trying to test us."  It's so full of logic holes that a wedge of Swiss cheese covets.  Seriously.  Use your head before you start talking about this stuff, please. 
Posted on: May 12, 2007 - 4:12pm
#517
scottmax wrote: As I
scottmax wrote:
As I understand it, THIS universe that we occupy and observe can be eternal into the future but will eventually wind down and become very cold. I think the reason that I am not getting my point across is because I am using "universe" to refer both to the known universe and to a potential multiverse.
Yes, that is why THIS universe could not be eternal as I've already stated (if it existed in eternity past, it would already be cold). Your first sentence also implies this universe had a beginning, which is against what Brian stated in the original debate about "the universe being eternal". I'm sure that he did not have multiverses in mind when he made this comment (or if he did, he should have said so.)
Quote:
The entire theory of a multiverse is very new. We do not know what properties the multiverse might have if it exists. However, we can posit a number of properties. It is quite possible that the nature of the multiverse is essentially like a vacuum fluctuation. Perhaps when our universe erupted, an equal and opposite negative universe happened at the same time. Or perhaps every black hole that forms is the mother of a new universe. We do not know at this time.
Well that is all very interesting, but again, this really gets us no closer to the answer of Who or What formed the universe. I'm not sure why it's more logical to conclude that the universe arose from a multiverse rather than to postulate that a Supreme Being formed it. It seems that given the frequent occurrences of the "we do not know" statements in your explanation, you wouldn't be as quick to put down the "God did it" theory.
Quote:
All of the myriad theories have a couple of huge advantages over the God theory:

They are potentially testable. As with the weirdness we call quantum mechanics, we may be able to use some of the concepts behind the theories, together with math that is well beyond me, to predict very specific outcomes. If those outcomes are realized through experimentation, they lead credence to the theory. If they fail, they add support to the idea that the theory should be rejected. A God theory provides no predictions to test against as far as I can tell.
Yes, and the God theory is potentially testable. SETI has done quite a nice job of outlining their criteria to detect "Intelligence" which can be applied to our question of whether or not an intelligence was involved in the Creation of the universe. As they state on their FAQ page located at:
www.seti.org/site/pp.asp?c=ktJ2J9MMIsE&b=178905#a1:
"If we do succeed in finding a message, could we understand it? If the signal is intentional, it might be decipherable. In order to send or receive a signal over interstellar distances, a civilization must understand basic science and mathematics. Hence, a message from another civilization might use science and math to build up a common language with other socieites."
Now one question is, if it takes intelligence to "understand" science and math, then why not admit it took intelligence to invent the concepts of science and math? Why does no one question what Mind placed those original concepts within the universe itself? The fact that we must learn to understand these concepts that are inherent in our universe shows that they do not originate within our own mind, but are the product of a higher Intelligence.
Furthermore, our world is teeming with information that has been placed within the life found here. To say, as some posters on here have speculated, that the information arose from matter is nothing more than question begging. Just because information is conveyed through matter does not mean that orginated from it.
The Fibanocci sequence found in nature is also indicative of intelligence. Why should a mathematical formula be found in the arrangement of something as simple as flower petals or pine cones or in the mating habits of bees?
Quote:
They do not add any magical elements. A multiverse would operate under specific laws that are predictable, just as everything we know about energy and matter in our observable universe operates according to predictable natural laws. Under a god theory, we have to assume something profoundly different from what we observe in our ordinary universe.
Yes, but the original question still stands: Who or what formed the multiverse? Even such a thing existed, we have come no closer to answering the "how". Envoking a purely natural and physical explanation to answer the question merely leads to the infinte regression problem all over again.
Quote:
Since the multiverse would have natural laws, it would essentially be nothing more than an extension of the nature that we already know and see. That is why a multiverse theory is less ad hoc than a God theory. We have no way to understand what a god realm would be like. This proposed god has many, many properties (intellect, reason, desire for worship) that exist nowhere else in our experience but in Man. And then we usually embue this God with the all-alls. A multiverse needs none of this.
Just because you come up with a natural explanation does not mean that you are correct or even that it could be true. It's simply the best guess you can offer that fits the materialistic paradigm. The real irony is that the only difference between your argument and mine regarding the origin of the universe is that instead of stating that God "did it", you substitute the most powerful "natural" force you can think of (i.e. another universe). But as I've already stated, this creates more problems than it solves since it fails to address the origin of the other universe(s).
And you're right, in order to understand the "God realm" it require a revelation from God Himself and the bible touches on it in the book of Revelation. But that is neither here nor there.
Like you said, human experience allows us to understand the Person attributes and Character of God. But what I don't understand is why that is so inconsequential to you.
Quote:
Look around the universe, Sara. What do you see? Do you find intelligent black holes? Passionate galaxies? No. You see a mindless universe plodding along without any care for the complex carbon systems on this planet.
And if that is all I found, then you would have a point. But I see amazing thinking, reasoning, and moral beings such as you and me and find that I cannot attribute our existence to a mindless bunch of matter swirling in the cosmos.
Quote:
On average, I see virtually no intelligence in the universe. Count up the total atoms in all of humanity and weigh it against our own single sun and you will see that the universe hasn't expended much of its mass on intelligent systems. Power is simply another word for energy, which we know is simply matter in another form. Order comes from natural laws. We should not be surprised by a certain degree of order since if there was ought but chaos, we wouldn't be here to talk about it. I just can't see how any of this shows a need for an entity, much less a god.
This is like missing the forest for the trees... As I stated earlier, natural laws that create order are indicative of intelligence. To take them for granted as being just a "natural" occurrence whose origin requires no further inquiry seems intellectually lazy to me.
Quote:
Sara, I used to believe in God. Even after I stopped being a Christian, I still considered the concept of a Creator to be very likely. But this slowly faded as my emotional attachment to the idea receded. I have no "desire" to reject God. I am not biased against God because He did something bad to me. I have just lost the emotional attachment to the idea. But I still understand very well why God seems the simplest answer to you.
I usually don't like to argue this point with Atheists because they get really upset when I say that they probably never were Christians at all. I realize that you may have been familiar with Christian concepts or even believed some of them to be true at some point, but if you truly ever were a Christian, you would still be one today. But this is a pretty involved topic which would require lengthly biblical discussion. However, since you have now rejected even the concept of God, there seems little point in it.
Quote:
Please enumerate some of the questions and additional complexity. Certainly evolution and cosmology are more complex than "God did it" but we are fortunate to have some brialliant science in place to explain these things. We have very good explanations for how nearly everything originated. Once you eliminate magical thinking, everything makes sense. Life without the safety net seems scary at first but it is ultimately liberating.
Without God there is:
1. No answer for the origin of the universe that doesn't involve either infinite regression (a logical impossibility) or a violation of known natural laws.
2. No explanation for the origin of natural laws
3. No meaning behind my existence or the existence of anything else.
4. No basis for arriving at moral truth.
Quote:
The meaning of life is to live it as happily as we can. Since our biology insists on continuance, we are hard wired to be more happy if our decendents will continue after we are gone. So we receive greater happiness when we create an environment in which our children may prosper. What more meaning do you need? What more meaning do you deserve than this?
That is a very nice thought, but unfortunately reality does not bear it out. I don't know if you've noticed, but even we wealthy schmucks in America aren't very happy (as the drug makers of antidepressents can readily testify with their billions in profits.) It seems that are not satisfied with much of anything and do not succeed attaining happiness.
But I must say I find it ironic that you state I "don't deserve" a better explanation for meaning when you yourself question every aspect of God's existence and, because you find the answers inadequate, reject Him overall.
Quote:
Show me this axim. Stars beget radiation and ultimately heavier atoms. Gravity draws these atoms together into planets and other stars. Some of these planets are rocky and some are gaseous. How is any of this a discription of like begets like? Processes simply lead to other processes.
I already did. I stated that only minds beget minds. We are the proof of the axim. You have actually proved my point in this statement because by your examples you have illustrated that "dead" matter only produces more dead matter, just in a different form.

Quote:
Chimps ostracise antisocial chimps. We see degrees of morality in the higher mammals. No other animal approaches Sara or Scott but there are plenty of chimps who surpass many less gifted humans. Average human intelligence is 100. Chimps and orangutans may be around 40 and can be trained in sign language. This would be considered moderate retardation in a human.
I think that scientists tend to anthropomorphize the behavior of animals, so stating that they "ostracize" rude chimps is not very convincing to me. You would think that the evolutionist, if he or she were truly impartial, would simply say that they isolate the "less fit" organism. Instead they appeal to our concepts of social behavior and apply it to animal interactions.
Also, I'm sure that chimps are in no way close in intelligence to moderately retarded humans. Even moderately retarded humans can communicate to a greater capacity and with more efficiency than even the most "intelligent" chimp. The conceptual ability of primates is also extremely limted compared with humans, even those of impaired mental ability. So I don't think your analogy is an accurate comparison.
Quote:
But God would have an IQ of infinity. We have nothing close to an IQ overlap with God. We can have nothing in common with a timeless being of infinite knowledge.
Why? The bible states that we are made in the image of God. This is not a physical image, but a mental one. If God wanted to communicate with us, He, being infinte in knowledge, would surely know how. Jesus is described as the "image of the invisible God". If you want to know how God communicated with us in the past, look at Jesus.
Quote:
We are animals. We just happen to be the brightest. But we are not the strongest or fastest or the best visually. Some don't even think we are the best looking?
We are physical beings with some similarities to animals, but this is a far cry from saying we "are" animals. As you stated, our mental abilities and ingenuity separate us from all other life on the Earth. This should prove that evolution could not be responsible for our development.
Quote:
It starts with what we can see and measure. That is all we can know. Everything else is simply guessing. If that guessing does not yield useful, testable information, then we have no basis for continued belief. Otherwise we have no way to distinguish between those concepts we should take seriously and those we should discard.


What you assert does not seem like an alternative to materialism. It is simply materialism plus a magic deity.
I disagree with your conculsion. If all we could "see and measure..is all we can know", then there is no room for other forms of conceptual knowledge. For example, can you see or measure a number? Before you quickly answer "well of course", you must realize that a number is not a physical entity that can be seen (i.e. you can see two objects and understand the concept of there being more than one, but you cannot physically see the number itself.) Also, you can represent the concept with a symbol such as "2", but that is still not the number, but merely a physical way to view the abstract concept.
I realize this is very philosophic in nature and a little confusing, but it shows how a non-physical and therefore non-measureable entity can exist.
Quote:
You are conflating evolution with abiogenesis. I freely admit that we are still at the beginning stages of discovering a mechanism for abiogenesis. Yes, a gap still remains. But evolution is well established science so once we figure out the initial spark, God has no place left to hide in the story of life.
No conflating here. I'm just looking at the broad scope of evolution. Even if I concede that somehow the chemical soup made a microbe, there is still no evidence that said microbe would become a human over millions of years. In order to accomplish this, there would have to be a testable, repeatable and observeable way for organisms to GAIN meaningful genetic information. I've never seen this demonstrated scientifically. All we have are mutations that produce duplications or scrambling of old information which results nothing meaningful.
Quote:
Sara, I think you need to do a bit more research on evolution. You might want to spend some time over at talkorigins.org or read a Dawkins book or two. Evolution is the only theory that fits the available evidence but I cannot prove that to you in 3 sentences.
I've dedicated quite a bit of study to evolution and I must say it's a wonder that scientists are so dogmatic about such a flawed theory. But I agree, the minutia that one must delve into to discuss evolution can be quite overwhelming. I prefer not to go into it here, but I will gladly disclose the resources for some of my information that refutes evolution:
http://www.answersingenesis.org
and
http://www.trueorigin.org
Quote:
Yes, lacking a proper understanding of all that science has discovered, it would not be surprising for people to come up with a God concept. But for a scientifically educated person to come to the God conclusion, I would assert that the idea would have to already have some hold on that individual's mind. Otherwise there is no reason to supplement known natural processes with the complexity of God.
Well, I guess you have to discount the numerous scientists who do believe in God as being somehow mentally deficient. But perhaps a better explanation is that they see no conflict whatsoever in maintaining that God exists and created the universe. I'm not sure why Atheists have such a hard time with it, but there are several highly educated scientists that do not. Instead of attributing their belief to a psychological defect, it would be more fair to allow they are entitled to their own view as much as you are yours.
Quote:
Name one prophecy in the Bible that came true after the Bible was written. It is not prophecy if you write the story after the event has occurred.
Well, Daniel's prophecies were written before the events occurred. Now I'm sure you won't agree with me and have some "scholars" to back up your opinion, but I would be grateful if you would do me the honor of reading this article on the authenticity of Daniel's prophecies at http://www.christian-thinktank.com/qwhendan3x.html .
Also, we know that the Old Testament was written before the birth of Jesus. He fulfilled several prophecies in His birth and death that could not have been "arranged" by Him. And I can already see where all this is going since every Atheist in this forum must "tow the party line" and deny the existence of Jesus, but I will try to deal with that more below.
Quote:
How has the Bible proven itself historically?
Now this is really a silly question. Even the Smithsonian Institute recognizes the bible to be historically accurate as to civilizations and dates.
Quote:
There are no extra-biblical mentions of Jesus or any of his incredible miracles by any contemporary writer.No mention of the earthquakes and risen saints in Jerusalem as mentioned in Matthew. Don't you think someone would have noticed that and commented on it? Even if you assume that Josephus is not a forgery, Josephus wasn't even born until 37 CE so he hardly counts as a contemporary.
Why should you expect there to be "extra-biblical" mentions of Jesus? Did Jesus often speak to Romans or perform miracles for them? No, He ministered to mostly the poor of His own nation. We don't find a lot of books from poor Jewish people in existence today...well except for the biblical writers which you have already discounted. Anyway. While several Jewish leaders took notice of Him, they dispised His lack of reverence toward them and that's why they sought to kill Him. They certainly weren't going to write about Him. Some Romans did witness his miracles, though, but they were mostly soldiers and not frequently in the book writing business.
Also, if Jewish saints i.e. believers in Christ Jesus were to raise from the dead, who would know it except other Jewish people??? And why would that need to be written it down right then? Isn't the person who rose from the dead testamony enough?
Another point to consider is that books attesting to the life of Jesus would not have to be written immediately after His resurrection anyway since most of the witness were still living and could give personal accounts to the fact.

So, I apologize for the incredible length of this post and for the delay (it seems everytime I come in here it's high traffic and I can't get the page to load.)
Anyway, thanks for the truly fascinating dialogue. It's nice to chat with a thinker.
Scientists, like others, sometimes tell deliberate lies because they believe that small lies can serve big truths." ~ Richard C. Lewontin
Posted on: May 12, 2007 - 4:32pm
#518
jabwocky wrote: My point
jabwocky wrote:


My point that I seem to be getting across poorly, or may I point out, one they may twist so they don't have to answer it is: recorded written history only goes back around 4000 years ago, (that in itself is funny, we couldn't write or communicate then WHAM we all of a sudden can ?

Cavemen used drawings to describe events. We had oral forms of communication before that. How is this not a natural transition between drawings to written words? Some written languages still use composite pictorial glyphs to represent multiple words an concepts.
jabwocky wrote:

If evolution was true, and I am speaking true evolution, we would have fossil records of each animal (humans included) that showed its progression from each state to the next (we have lots of fossils of certain animals but none without HUGE gaps if you try to throw evolution into the picture) so that there are huge gaps and unknowns (leaps of faith?) that one must make to support ones belief in evolution, unlike gravity because I know that as far as on the surface of this planet is concerned exists by the fact that when I jump up, I come down again. My point being that gravity is a bad example of a theory to be put up against evolution.

Again, you're confused about what a scientific theory is supposed to do.
The theory of gravity is principle which helps explain and predict the nature of gravity. Based on this theory, we can predict how objects will react in the presence of a gravitational field. For example, based on the theory of gravity, we can use the mass of the earth and the mass of the International Space Station to find the correct distance and speed needed to keep the station in orbit around the earth. Since the space station is currently orbiting the earth based on these calculations, we can say that the theory of Gravity has accurately predicted how gravity effects at least one object in orbit around the earth. This is only one of an overwhelming number of examples where the theory of gravity has accurately predicted how gravity will behave and it's effects on objects in the universe.
The theory of evolution has a similar role. Evolutionary theory is a principle that lets us predict how life has evolved in the past and should evolve in the future. When we examine life on our planet, the theory of evolution accurately predicts and correlates with the overwhelming number of fossils, genetic and biological evidence found in the natural world. We have yet to find a case where the development of life conflicts with this principle, including the bacterial flagellum. As such, it's considered a scientific theory, just like gravity.
jabwocky wrote:

Part Duex: The fact that it is possible that there is a false record of things planted on earth is not to "deceive people intentionally" it is possible there to deceive those that wish to be deceived? Is it not possible that He is just giving you what you want? Or maybe it is not God, perhaps Satan? The world is the devils playground, perhaps he put them there? One of my favorite movie lines is the one in 'The Usual Suspects' when the main character states "The greatest trick the devil ever pulled was convincing the world he did not exist."

Perhaps the Bible is a great forgery written by the Devil? God is really the "underdog" and you're playing right into the Devil's hand?
jabwocky wrote:

The funniest part to me of this whole discussion is that neither side is actually provable according to scientific PROOF/FACT, all we can do is make our own bed, and then lay in it.

Again, Evolutionary theory accurately predicts how life has evolved on this planet. It does so without then need for supernatural claims.
jabwocky wrote:

We can both enjoy our lives to its fullest point, some more than others, and then we will know, like I said before though, no winners, just the possibility of losers.

If we, as a species, are more concerned with what happens behind closed doors between to consenting adults than about global warming or religious violence, we could destroy our environment or die in a nuclear terroist attack. If Jesus never returns to redeem mankind, we would be stuck on a barren planet or be the cause of our own extinction? Sounds like quite a possibility of loss to me.
jabwocky wrote:

I guess my biggest wonder is how can somebody look at the world around them, and think this is all just chance? I guess somebody living in a city would say that, all they see is man made, I live on 300 acres in the country that God gave me, and I see His hand in a lot of things everyday. Lot at the simplicity of a flower, at the same time so complex.

I'm no stranger to nature. I grew up on an 80 acre farm. How is it that we are so sensitive to the difference between things of nature and those made by man? If they are both intellengely designed, shouldn't they be more difficult to differentiate? Also, if God purposely designed us down to the last detail, why are we so flawed? Why do we share 98% of our genome with Chimpanzees? The very genes our cells us to construct us also endows us with aggressive behavior that starts wars and results in the deaths of millions. How does this imply purpose or intelligence?
jabwocky wrote:

You all support scientific claims as your basis for evolution, but doesn't the fact that SO many things had to be perfectly in place for our planet to even exist as it does not throw even a tiny wrench into the works? Why do we have brains that function at the level we do, and nothing else on the planet does?

This sort of thinking is clearly geocentric. The factors that make up earths habitability and allow for life to exist are here because we're here? Isn't that a highly arrogant assumption on your part? Humans exist where they exist in the form they exist in because the factors were present to allow it to happen. If they were not in such exact precise alignment, we simply wouldn't be having this conversation. However, the concept of Man not existing at all is probably completely foreign to you since you think God willed us into existence with a specific purpose in mind.
jabwocky wrote:

There are a lot of holes in the "theory" of evolution, and yes you will say there are holes in the "theory" of the existence of God, but I say, Of course there are, they are there for a reason, it comes down to choice, you make your choices, and others are allowed to make theirs. Do you wish to be loved by others by force, or by the fact they love you? (if you choose force I feel sorry for you) Is it not possible God believes in choice also, and that He gives you the ability or right to choose to love Him or not?

If God is all knowing and all seeing, then God knew exactly what would happen when he gave us free will. He knows exactly what what words I will type next. He knows exactly who will die without being saved. Even if you claim that God doesn't know exactly what will happen, it doesn't take an omniscient being to figure out that, by giving us free will, some will reject him. In other words, God conceders his knowledge of who really loves and believes in him more important than the eternal suffering of his own creation. Do you really believe that?
I mean - sure, I'd want to know if my wife really loved me or not. But I certainly wouldn't chain her to the water heater in the basement for eternity if she didn't.
jabwocky wrote:

I am here hopefully to maybe persuade just one person, to make them look deeper into the discussion, to truly seek the answer, then they can make their own decisions, thats all that anybody can do.

That's exactly what were trying to do here as well.
We do not learn by experience, but by our capacity for experience.