#0044 RRS Newsletter for August 14, 2007
Submitted by hellfiend666 on August 14, 2007 - 3:04am.
Good day to you all! I have decided to introduce yet another new feature, in the Community section I will be posting a new "Victim of Religion" story in each new edition highlighting a different case of the atrocities that religious fervor can bring about. These will be stories about individuals, people who may not get much press otherwise.
I would also like to plug a new site that was brought to my attention recently by one of the regulars in the stickam chat room, Atheist Rescources is an awesome site!
I would also like to remind you all about the Content Submission contest being held here on the RRS site. You could win some great prizes for your essays, articles, or other atheist inspired writings. I am also still looking for you de-conversion stories to post in this newsletter, if you wish to share it.
Thanks for reading, if you have any comments or suggestions you can reach me directly HERE. Or on Myspace HERE.
Stay rational,
Jack
and the RRS MI team




Table of Contents
Click HERE to find your local affiliate!
Rational Response Squad News
Rooks Intro to History class, Powerpoint presentations now available! Essay contest! Win Prizes!
RRS Michigan News
The next meeting
Science News
Evolution Is Driven By Gene Regulation Gene Regulation, Not Just Genes, Is What Sets Humans Apart Handsome By Chance: Why Humans Look Different From Neanderthals Mission Could Seek Out Spock's Home Planet
Religion
Satanist finds God before murder trial Rights group at odds with Vatican Anti-obscenity program not a success Richard Dawkins - Enemies of Reason
Government
Impeach the bastard! Cheney knew what would happen Voting machines Iranian official issues warning to Russia West Hollywood joins call for impeachment
Community
Atheist Blood Drive Atheists for Autism Research Charity! Religious Victim of the day
Entertainment
The Far Side, Creationism Explained Opus, Atheist Plot Lucky Louie God is Dead Lamb Of God - Walk With Me In Hell @ Download Festival 2007
Rooks Intro to History class, Powerpoint presentations now available!
The Powerpoint Presentations for the RRS Academy Intro to Classical and Modern History, presented by Rook, are now available for download for anyone who wishes to do so. Special thanks go to Jason Hoblin on this.




Essay contest
****UPDATE 7-22-07 CONTEST EXTENDED. GREYDON SQUARE CATEGORY ADDED. OTHER CHANGES AND PRIZES AWARDED. PLEASE REVIEW AGAIN AND SUBMIT SOMETHING!!!****
NOTE: DUE TO ERROR IN LINKS AND LOW SUBMISSIONS, THIS CONTEST HAS BEEN EXTENDED TO MARCH 15TH, 2008.
IF YOU HAVE A QUESTION READ EVERYTHING FIRST, CLICK LINKS! COMMENTS AND QUESTIONS SHOULD BE POSTED PUBLICLY IN THIS THREAD FOR THE BENEFIT OF ALL PARTICIPANTS! PLEASE DISTRIBUTE THE INFORMATION OF THIS SUBMISSION DRIVE FREELY.
The Rational Response Squad is proud to announce a call to action for content submissisions. We have been blown away by the positive feedback we've received from the freethinking community. Thanks to everyone who has placed a banner, or our player on your website and helped spread the word in some manner. We've received many great written submissions of thoughts and views, but had no place to put them, so we've created a guideline to help you, help us. The categories in which we need submissions are listed below, send us your best material. Your writings will be added to our library of articles, essays, and debunkings. We're hoping to build one of the largest and diverse free libraries of rational thoughts on the internet. Please post everything publicly on our forum so it's there for all RRS members to access who are working on this project. In addition to hosting everything in a free web archive, we may also compile views into a free e-book or a book for sale to generate money for activist projects. Not that you need a reward to share your views with others, but as a thank you we'll be awarding prizes to as many of the top participants as we can. Prizes will be awarded based on effort put in and quality of writing.
We've put the categories in order of need and may alter the order later as submissions come in.
Prizes will be awarded MARCH 15TH, 2008, but you can continue to submit content well after MARCH 15TH, 2008.
Read the whole list of rules, prizes and submission categories HERE!
The next meeting
The next RRS MI meeting will be held on Thursday, August 30th, topic still to be determined. I would like to get some people together for an outing to the Detroit Science Center for the "Universe Within" exhibit as well. It will be on a Friday, just not sure when yet. Admission is $20. I will keep you posted.
Evolution Is Driven By Gene Regulation
Science Daily — It is not just what's in your genes, it's how you turn them on that accounts for the difference between species -- at least in yeast -- according to a report by Yale researchers in this week's issue of Science.
"We've known for a while that the protein coding genes of humans and chimpanzees are about 99 percent the same," said senior author Michael Snyder, the Cullman Professor of Molecular Cellular and Developmental Biology at Yale. "The challenge for biologists is accounting for what causes the substantial difference between the person and the chimp."
Conventional wisdom has been that if the difference is not the gene content, the difference must be in the way regulation of genes produces their protein products.
Comparing gene regulation across similar organisms has been difficult because the nucleotide sequence of DNA regulatory regions, or promoters, are more variable than the sequences of their corresponding protein-coding regions, making them harder to identify by standard computer comparisons.
"While many molecules that bind DNA regulatory regions have been identified as transcription factors mediating gene regulation, we have now shown that we can functionally map these interactions and identify the specific targeted promoters," said Snyder. "We were startled to find that even the closely related species of yeast had extensively differing patterns of regulation."
In this study, the authors found the DNA binding sites by aiming at their function, rather than their sequence. First, they isolated transcription factors that were specifically bound to DNA at their promoter sites. Then, they analyzed the sequences that were isolated to determine the similarities and differences in regulatory regions between the different species.
"By using a group of closely and more distantly related yeast whose sequences were well documented, we were able to see functional differences that had been invisible to researchers before," said Snyder. "We expect that this approach will get us closer to understanding the balance between gene content and gene regulation in the question of human-chimp diversity."
Other authors on the paper were Mark Gerstein, Anthony R. Borneman, Tara A. Gianoulis, Zhengdong D. Zhang, Haiyuan Yu, Joel Rozowsky and Michael R. Seringhaus at Yale and Lu Yong Wang at Siemans Corporate Research, Princeton NJ. The study was funded by grants from the National Institutes of Health and the Burroughs Wellcome Foundation.
Citation: Science 317: 815-819 (August 10, 2007).
Note: This story has been adapted from a news release issued by Yale University.
Gene Regulation, Not Just Genes, Is What Sets Humans Apart
Science Daily — The striking differences between humans and chimps aren't so much in the genes we have, which are 99 percent the same, but in the way those genes are used, according to new research from a Duke University team.
It's rather like the same set of notes being played in very different ways.
In two major traits that set humans apart from chimps and other primates -- those involving brains and diet -- gene regulation, the complex cross-talk that governs when genes are turned on and off, appears to be significantly different.
"Positive selection, the process by which genetic changes that aid survival and reproduction spread throughout a species, has targeted the regulation of many genes known to be involved in the brain and nervous system and in nutrition," said Ralph Haygood, a post-doctoral fellow in the laboratory of Duke biology professor Gregory Wray.
Haygood is lead author in a report on the research to be published online Aug. 12, in the journal Nature Genetics.
His group looked at the regulatory sequences immediately adjacent to 6,280 genes on the DNA of chimps, humans and the rhesus macaque, a more distant primate relative that has 88 percent the same genes as humans. These regulatory stretches of DNA are where proteins bind to the genome to initiate a gene's function. And it is here that evolution has apparently fine-tuned the performance of genes, Wray said, resulting in the dramatic differences in the human brain.
Though many studies have looked for significant differences in the coding regions of genes relating to neural system development and failed to find any, the Duke team believes this is the first study to take a genome-wide look at the evolution of regulatory sequences in different organisms.
Other studies have found significant differences between these species in the coding regions that govern the immune system, the sense of smell and the manufacture of sperm, but the coding regions of neural-related genes had shown very little sign of positive selection in these studies. Yet, as far back as 1975 when Mary-Claire King and Allan Wilson first said humans and chimps were 99 percent the same genetically, they had offered the suggestion that greater differences might be found in the regulatory regions.
The type of analysis performed by the Duke team couldn't be done until the macaque genome was published in 2005 because they needed a third, closely related relative to compare the regulatory sequences.
The mouse genome had been used as a reference point for comparing the coding sequences of humans and chimps, but the non-coding sequences have generally evolved much faster. "Mice wouldn't work for analyzing the non-coding sequences, because they're too different from humans and chimps," Haygood said.
While the biochemistry that cells use to turn food into energy is essentially the same across most animal species, the fine-tuning of how an organism deals with the different sorts of sugars and complex carbohydrates in its diet lies in the regulatory sequences, Wray said.
Chimps are fruit-eaters, for the most part, and would not last long away from their fruit-rich forest. The sugars in their diet are relatively simple to break down and convert to cellular fuel. Humans, on the other hand, eat a wider array of foods, including many the chimps would simply not be able to digest like starchy root crops. The researchers found dramatic differences in the regulatory regions of their genes for breaking down more complex carbohydrates. It may be that parts of the human metabolism are cranked up to digest carbs down to simpler sugars.
"Regulatory changes have adapted to changing circumstances without changing the essential chemistry of metabolism," Wray said. "This may set the stage for a more focused analysis of the human diet."
Much is being written and hypothesized about how dietary changes have contributed to the current human pandemics of obesity and diabetes, and perhaps there will be some insights from understanding how these regulatory sequences have evolved, he said.
To do a genome-wide analysis of regulatory regions, Haygood and post-doctoral fellow Olivier Fedrigo had to adapt some of the statistical tools used for genome-wide analysis of coding regions. To be sure their results would be robust, they focused on just the most reliably accurate published DNA sequences in common between the three animals, discarding two-thirds of the genome to ensure accuracy. "With only three species, we had to be very stringent about quality," Fedrigo said.
The researchers don't think these findings will be of any help resolving questions about how and when the ancestors of humans and chimps diverged on the tree of life, but it's safe to say that "most of this is ancient history," Wray said.
Note: This story has been adapted from a news release issued by Duke University.
Handsome By Chance: Why Humans Look Different From Neanderthals
Science Daily — Chance, not natural selection, best explains why the modern human skull looks so different from that of its Neanderthal relative, according to a new study led by Tim Weaver, assistant professor of anthropology at UC Davis.
"For 150 years, scientists have tried to decipher why Neanderthal skulls are different from those of modern humans," Weaver said. "Most accounts have emphasized natural selection and the possible adaptive value of either Neanderthal or modern human traits. We show that instead, random changes over the past 500,000 years or so – since Neanderthals and modern humans became isolated from each other – are the best explanation for these differences."
Weaver and his colleagues compared cranial measurements of 2,524 modern human skulls and 20 Neanderthal specimens, then contrasted those results with genetic information from a separate sample of 1,056 modern humans.
The scientists concluded that Neanderthals did not develop their protruding mid-faces as an adaptation to icy Pleistocene weather or the demands of using teeth as tools, and the retracted faces of modern humans are not an adaptation for language, as some anthropologists have proposed.
Instead, random "genetic drift" is the likeliest reason for these skull differences.
Weaver conducted the research with Charles Roseman, an anthropologist at the University of Illinois at Urbana-Champaign, and Chris Stringer, a paleoanthropologist at the Natural History Museum in London.
The study appears in the August issue of the Journal of Human Evolution.
Note: This story has been adapted from a news release issued by University of California, Davis.
Mission Could Seek Out Spock's Home Planet
Science Daily — Science fiction may soon become science fact.
Astronomers at NASA's Jet Propulsion Laboratory have recently concluded that the upcoming planet-finding mission, SIM PlanetQuest, would be able to detect an Earth-like planet around the star 40 Eridani, a planet familiar to "Star Trek" fans as "Vulcan." 40 Eridani, a triple-star system 16 light-years from Earth, includes a red-orange K dwarf star slightly smaller and cooler than our sun. Vulcan is thought to orbit that dwarf star, called 40 Eridani A.
When pondering the idea that SIM might be able to detect Vulcan, astronomer Dr. Angelle Tanner at Caltech had two questions: Can a planet form around 40 Eridani A? Can SIM detect such a planet?
She consulted a planetary theorist, Dr. Sean Raymond of the University of Colorado, Boulder. "Since the three members of the triple star system are so far away from each other [hundreds of astronomical units - the Earth-Sun distance], I see no reason why an Earth-mass planet would not be able to form around the primary star, 40 Eridani A," he said.
If Vulcan life were to exist on the planet, the orbit of the planet would have to lie in a sweet spot around the star where liquid water could be present on its surface. Water is an essential ingredient for any organism to live long and prosper. For 40 Eridani A, this spot, or "habitable zone," is 0.6 astronomical units from the star. That means Vulcans would get to celebrate a birthday about every six months.
The SIM PlanetQuest instrument will be so accurate, it could measure the thickness of a nickel at a distance from Earth to the moon. Using a set of mathematical models based on Newton's Laws, Tanner was able to conclude that SIM would be able to definitively determine whether there is an Earth-mass planet orbiting in the habitable zone around 40 Eridani A, and could also determine its orbit.
This is quite an exciting prospect, since NASA's Terrestrial Planet Finder mission, planned for launch after SIM, would not only be able to take a rudimentary "picture" of the planet, but also could search for signatures of life such as methane and ozone.
When asked what life would be like on Vulcan, Tanner speculated that the inhabitants might be pale. "A K dwarf star emits its light at wavelengths which are a bit redder compared to those from the sun, so I wonder whether it's harder to get a tan there," she said.
The results of Tanner's simulations will be submitted for publication in the Publications of the Astronomical Society of the Pacific.
Note: This story has been adapted from a news release issued by National Aeronautics And Space Administration.
Satanist finds God before murder trial
MIAMI, Aug. 13 (UPI) -- An avowed Satanist told a Miami judge Monday he has found God and was abandoning plans to wear Satanic vestments during his murder trial.
Lazaro Galindo is accused of stabbing and carving up the body of another man, a rival in love, in 2000. The man's body was found after children noticed a leg sticking up from a garbage can in a park.
Galindo is defending himself and last Thursday said the First Amendment allowed him to wear his Satanic outfit: all-black clothes, a special cap and Satanic jewelry that includes the pentagram, The Miami Herald reported.
The judge said he would allow Galindo to wear the garb.
But during jury selection Monday, Galindo said, "I've converted myself over to God. I converted myself to God not too long ago."
The defendant claims police beat him to get a confession to something he did not do.
Copyright 2007 by United Press International. All Rights Reserved.
Rights group at odds with Vatican
MEXICO CITY, Aug. 13 (UPI) -- The international rights group Amnesty International is poised to defy the Roman Catholic Church by endorsing abortion rights for rape victims.
The group's leaders are meeting Mexico City this week, and the British newspaper, The Independent, said they were expected to endorse a board recommendation last April that abortion be a right for women who have been raped, or for whom birth would risk their lives.
Aware that the issue would likely result in a Vatican-ordered boycott of the organization by Catholics, Amnesty's deputy general secretary, Kate Gilmore said it had been a difficult decision that took two years to make.
"Ours is a movement dedicated to upholding human rights, not specific theologies," she said. "Our purpose invokes the law and the state, not God."
Cardinal Renato Martino, president of the Pontifical Council for Justice and Peace said there would be indeed be a boycott ordered, and said "Amnesty International has betrayed its mission," the report said.
The issue came up for debate in the rights group amid reports of mass rapes in Sudan's western Darfur region and women being denied abortions.
Copyright 2007 by United Press International. All Rights Reserved.
Anti-obscenity program not a success
WASHINGTON, Aug. 10 (UPI) -- A U.S. Justice Department grant designed to root out obscenity on the Internet has resulted in 67,000 citizen complaints but no prosecutions.
The $150,000 a year grant awarded to the conservative religious group Morality in Media is the result of an earmark inserted into a spending bill by Congressman Frank R. Wolf, R-Va., The New York Times reported Friday.
Under the program, citizens are invited to report material they believe is obscene so it can be investigated and possibly prosecuted.
Two former law enforcement officers troll the Internet for sexual web sites and review complaints filed by citizens who register on the Justice Department site.
Clicking on the site to make a report takes the user to ObscenityCrimes. org that is run by Morality in Media.
Stephen G. Bates, a Harvard-trained lawyer and journalism professor, has criticized outsourcing the search for obscenity, saying it makes "a mockery of the First Amendment, chilling freedom of expression."
Copyright 2007 by United Press International. All Rights Reserved.
Richard Dawkins - Enemies of Reason
Interview with Richard Dawkins about 'The Enemies of Reason'





Impeach the bastard! Cheney knew what would happen.
Dick Cheney's neighbors in Jackson Hole, Wyoming topple him in effigy at a protest calling for his impeachment. The protest was held in front of the gate to his home in Jackson Hole on August 11, 2007



In this interview from April 15th, 1994, Dick Cheney reveals the reasons why invading Baghdad and toppling Saddam Hussein wouldn't be a great idea. He also stipulates that "not very many" American soldiers' lives were worth losing to take out Saddam during the Gulf War.





Voting machines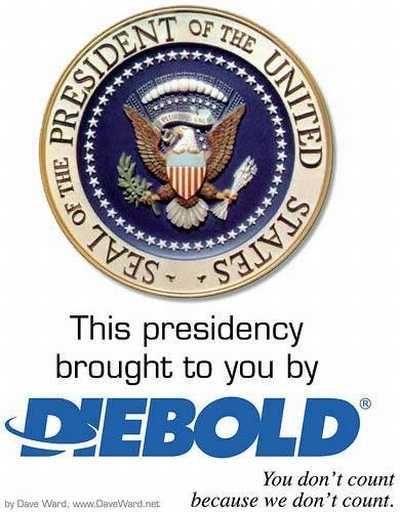 Iranian official issues warning to Russia
TEHERAN, Iran, Aug. 13 (UPI) -- An influential member of the Iranian Parliament is urging Russia to move ahead with plans to complete construction of a nuclear power plant in Iran.
Reza Talaei-Nik, who serves on the national security and foreign policy commission, Monday said any delay in getting the plant up and running will harm relations between Tehran and Moscow, the Iranian Press TV reports.
"The Iranian government expects Russia to adopt a realistic approach and preserve national rights and interests of the two countries against the illogical pressure by Washington," Talaei-Nik said.
The Iranian MP brought up the matter of Moscow's dispute with United States over a European missile shield.
"Russia should be mindful and alert of the U.S. missile shield in Europe and on Russia's western borders as well as other long-term Western and NATO policies," he said.
Copyright 2007 by United Press International. All Rights Reserved.
West Hollywood joins call for impeachment
WEST HOLLYWOOD, Calif., July 22 (UPI) -- A nationwide call for the impeachment of U.S. President George Bush was bolstered last week when officials in West Hollywood, Calif., joined the fray.
By passing a resolution on the measure, that also targets Vice President Dick Cheney, officials in West Hollywood made their city the first Southern California locale to make such a declaration, the Los Angeles Times said Sunday.
West Hollywood Mayor John J. Duran said his city joined 80 other U.S. towns or cities in the political effort to protect constitutional ideals.
"Someday I know I'll look back and I'll be satisfied that when I thought the Constitution was in peril, I took some action rather than just sat passively by," he said after last Monday's vote.
The nationwide effort accuses both Bush and Cheney of numerous constitutional transgressions, including allowing the torture of prisoners and domestic wiretapping to occur.
Duran told the Times he has called on officials in nearby cities to take similar action in order to push Rep. Henry A. Waxman, D-Los Angeles, to make it a congressional topic.
Atheist Blood Drive
In an attempt to show the world that atheists are every bit as charitable as the religious of society, and that we need no "divine warrent" to be so, the RRS has set up a daughter organization called Atheist Volunteers. We hope you will all chip in. The most prominent of it's projects is the Atheist Blood drive.
Click HERE to get more info on this important project!
Atheists for Autism Research Charity!
Check these guys out, and donate if you can!
Religious Victim of the day
Community bullies 14-year-old girl in USA for being pagan
Horace Maynard Middle School in Union, Tennessee punished India Tracy, a 14-year-old straight-A student, for not participating in religious events. In addition, the school did not do enough to discourage religiously motivated bullying, which lead to physical assaults on India. She was forced to take part in bible studies and prayer. She was also beaten and accused of eating babies. Why? Because she is not Christian, she is a Pagan.





The Far Side, Creationism Explained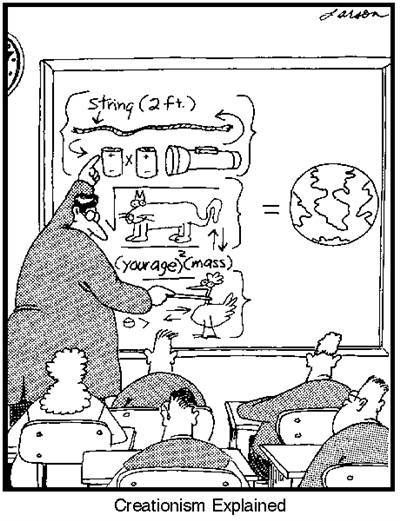 Opus, Atheist Plot
Lucky Louie God is Dead
Lamb Of God - Walk With Me In Hell @ Download Festival 2007
Pray for blood
Pray for the cleansing
Pray for the flood
Pray for the end of this nightmare
This lie of a life can as quickly as it came dissolve
We seek only reprieve
And welcome the darkness
The myth of a meaning, so lost and forgotten
Take hold of my hand
For you are no longer alone
Walk with me in hell
Pray for silence
Pray for resolve
Pray for a savior
Pray for deliverance
Some kind of purpose, a glimpse of a light in this void of existence
Oh...
Now witness the end of an age
Hope dies in hands of believers
Who seek the truth in the liar's eyes
Take hold of my hand
For you are no longer alone
Walk with me in hell
Walk with me in hell
Walk with me in hell
Walk with me in hell
Walk with me in hell
Walk with me in hell
Take hold of my hand
For you are no longer alone
Walk with me in hell
Walk with me in hell
Walk with me in hell
You're never alone
You're never alone
You're never alone
You're never alone
You're never alone
Walk with me in hell




The darkness of godlessness lets wisdom shine.